Edinburgh-Shenzhen Creative Exchange (ESCE)
The Edinburgh-Shenzhen Creative Exchange (ESCE) provides incubator and soft landing space for the creative and tech sectors from each city. The exchange project was established in Edinburgh and Shenzhen in 2015 following the signing of a Memorandum of Understanding (MOU) between the cities in 2013. The MOU provides tailored support for in Shenzhen for Edinburgh companies, and in Edinburgh for Shenzhen companies with a creative and tech focus.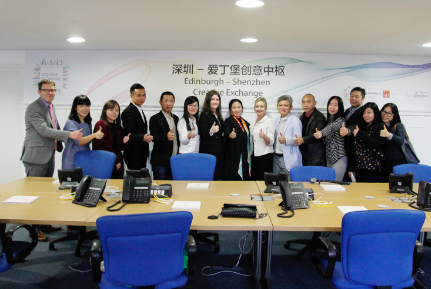 Since project establishment, a series of inward and outward focused business visits have been undertaken. Supported by governments in both Shenzhen and Edinburgh, the visits have benefitted companies in both cities, and resulted in a number of inward and outward investments, and several spin off projects for Edinburgh in the life sciences and bio medical sectors.
Edinburgh-Shenzhen Creative Exchange
Express · Support · Connect · Exchange